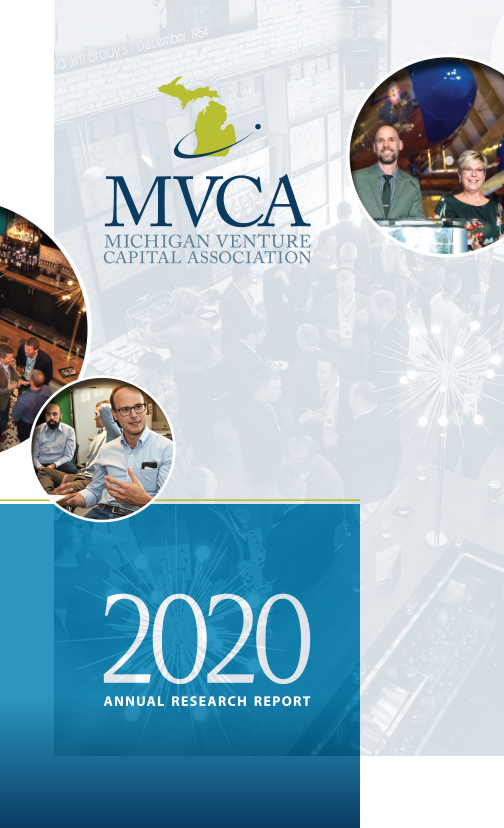 Each April the Michigan Venture Capital Association releases an annual research report, here's this year's!

Strong Michigan venture capital firms are a critical factor in the success of Michigan startups. With Michigan venture investors backing nearly every Michigan venture-funded startup, the health of our state's entrepreneurial economy hinges on our ability to provide capital to our high-tech, high-potential companies.​
Key Findings from the 2019 MVCA Research Report:
There are currently 19 startup companies in Michigan led by a CEO who is a racial minority, a 138% increase over the last six years.
Every dollar invested in a Michigan startup by a Michigan-based venture capital firm, it attracts $45.71 of investment from outside of Michigan.
There are 26 venture capital firms headquartered or with an office in Michigan.
Total venture capital under management in Michigan is $4.3 billion.
542 venture firms from outside of Michigan have invested in Michigan-based startups.
In Michigan, 106 startups raised over $73.6 million from angel investors.
View the 2020 MVCA Research Report for complete findings on Michigan's entrepreneurial and investment community.
About Michigan Venture Capital Association
The Michigan Venture Capital Association (MVCA) is a nonprofit trade organization founded in 2002 to increase the amount of capital and talent available to venture and angel investors for the funding of Michigan's most innovative entrepreneurs. The organization works closely with entrepreneurs to transform breakthrough ideas into new companies and industries that drive Michigan job creation and economic growth. MVCA membership includes private and corporate venture capital funds, angel investors, universities and economic development organizations, and service providers. More than 400 individuals are members of MVCA, representing over 100 organizations across the nation. For more information, visit www.MichiganVCA.org.