Keith Lambert, Vice President of Business Attraction, LEAP, Lansing Economic Area Partnership -- CAMW! MVP for April 2019. Capital Area Michigan Works! has been helped by LEAP their most valuable partner for this month, in preparing for MiCareerQuest Capital Area coming up April 26th.   

To hear Keith and Chris discuss CAMC click play on the PodCasts below.
Keith dropped by the MBN studio to share with Chris Holman some details including a general overview of what this event is. Listen in and hear about the opportunity approximately 5,000 Michigan students will be taking advantage of when visiting the Lansing Center that Friday.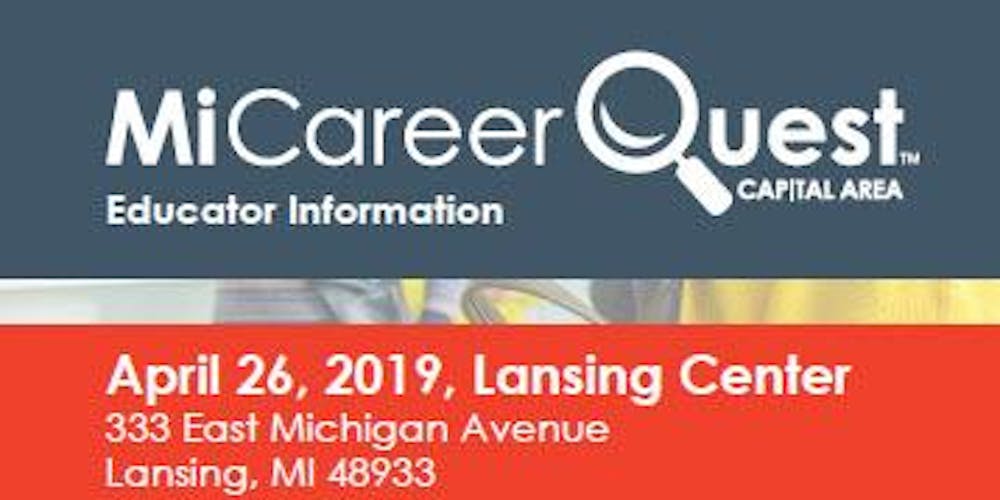 Here's essentially what they cover in the interview:
Question 1: Can you give us a general overview of what this event is?

In partnership with T3: Teach. Talent. Thrive, Capital Area Michigan Works! and a host of regional partners, MiCareerQuest Capital Area is bringing 5,000 students together for hands-on career exploration. The event is scheduled for April 26 at the Lansing Center. MiCareerQuest Capital Area is an employer-driven, student-focused event. MiCareerQuest is not your typical career fair, though; in fact, it's not a career fair at all. It's a hands-on career exploration event for middle and high school students. During this unique experience, students will find out what it's like to be a nuclear machinist, mechanical engineer, agriscientist, network technician and more by interacting with professionals who do these jobs every day here in the capital region.

Question 2: What are the plans for how the exhibits or stations will be set up?

Employers will be grouped into four quadrants to be showcased at the event.
1. Health Sciences and Human Service
2. Business, Information Technology, Arts and Communications
3. Natural Resources and Agriscience
4. College, University, Education and Training Providers Quadrant Liaisons have been working with local businesses to help guide and develop engaging, hands-on activities for the event. We are looking for employers to engage with local students by showcasing the most exciting parts of their work and getting our youth thinking about careers early on.

Question 3: What are you most excited about for this event?

I'm excited to see what both sides — meaning the employers and students — get out of this. This is such a unique event that will allow employers to see what engages the students so they can gear future recruitment strategies with their feedback in mind. I'm excited to see that interaction between the two groups.
Question 4: What are you hoping students will walk away knowing?

The capital area has much to offer and, through events like this, our youth gain exposure to opportunities right here in our community. My hope is that students walk away with a newfound respect and excitement for the jobs or career paths that are offered right here in their community.