From July to October 2018 Delta Dental of Michigan has a series of FREE Senior Lunch Programs.
Jeffrey Mosher speaks with Katie Frankhart, Program Coordinator, Delta Dental Foundation at Delta Dental of Michigan and two representatives from Tri-County Office on Aging; Tasha Stetler, Community Nutrition Manager, and Christine T. Histed, RD, Registered Dietician, Evidence Based Programs Manager.
Their conversation covers what the Serving Smiles to Seniors program is. The tie of The Delta Dental Foundation having several partners on this initiative including Tri-County Office on Aging.


How the Tri-County Office on Aging is involved in the program. What the results have shown, and whether this program is effective. Why this program is needed in our community?
And finally how a senior can sign up to attend one of the upcoming luncheons?
To hear Katie, Tasha, and Christine's conversation with Jeffrey, please click on the embedded SoundCloud PodCast shared below.
WHAT: Nearly one-fifth of adults 65 years and older have untreated tooth decay which is almost entirely preventable. The Delta Dental Foundation and its partners are launching the local Serving Smiles to Seniors program for the third year to educate seniors on proper oral care and connect them with local resources.
Spearheaded by the Delta Dental Foundation, the program is a partnership with the Michigan Office of Retirement Services, Tri-County Office on Aging, Area Agencies on Aging Association of Michigan and Smiles on Wheels.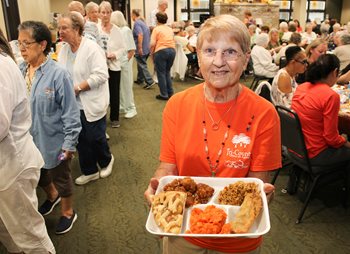 Seniors will be treated to lunch funded by the Delta Dental Foundation, oral health bingo, an oral health education session and—new to the program this year—oral health screenings performed by Smiles on Wheels Registered Dental Hygienist staff.
Assessments will be offered at most sites and will begin at 9:30 a.m. All seniors will receive a list of local clinics where they can receive further oral health care, and those who elect to have a screening will receive a patient care plan. At the end of the assessments screenings and education session, seniors are given care and education resources, and an oral health kit complete with oral care supplies.
Also new to the program is 2018 is a nutrition education session. Presented by a registered dietician, the session was added to educate seniors on the connection between oral health and overall health, and to encourage healthy food and beverage choices. Seniors will learn about the major food groups, serving sizes and reading nutrition labels.
To RSVP for a meal, call 571-372-6671.
WHY: Seniors have a higher risk of oral health complications that can impact their overall health and quality of life, and many of them have problems accessing affordable care.
WHEN and WHERE:
Wednesday, August 15
Cedar Place Apartments
201 W. Jolly Rd
Lansing
517-882-0766
Thursday, August 30
Senior Companion
2010 Boston Blvd
Lansing
517-887-6116
*Assessment will NOT be offered at this site
Wednesday, September 12
Clinton County Senior Center
201 E. Walker St
St. Johns
989-224-4257
Thursday, September 20
310 Greenwood
Grand Ledge
517-887-1393
Wednesday, October 3
Riverfront Apartments
601 N. Jolly
Lansing
517-887-1393
Wednesday, October 17
Sam Corey Senior Center
2108 N. Cedar St
Holt, MI
517-268-0096
*Assessments will be offered after bingo
INFO: For more information about the program and locations, call Tasha Stetler at 517-887-1393.
###
About Delta Dental of Michigan
Delta Dental of Michigan and its affiliates in Arkansas, Indiana, Kentucky, New Mexico, North Carolina, Ohio and Tennessee collectively are among the largest dental plan administrators in the nation. In 2016, the enterprise paid out $3.6 billion for dental care for 12.8 million members. Offices are located in Okemos and Farmington Hills, Michigan; Sherwood and Little Rock, Arkansas; Indianapolis, Indiana; Louisville, Kentucky; Albuquerque, New Mexico; Raleigh and Charlotte, North Carolina; Cleveland, Cincinnati and Dublin, Ohio; and Nashville, Knoxville and Memphis, Tennessee.